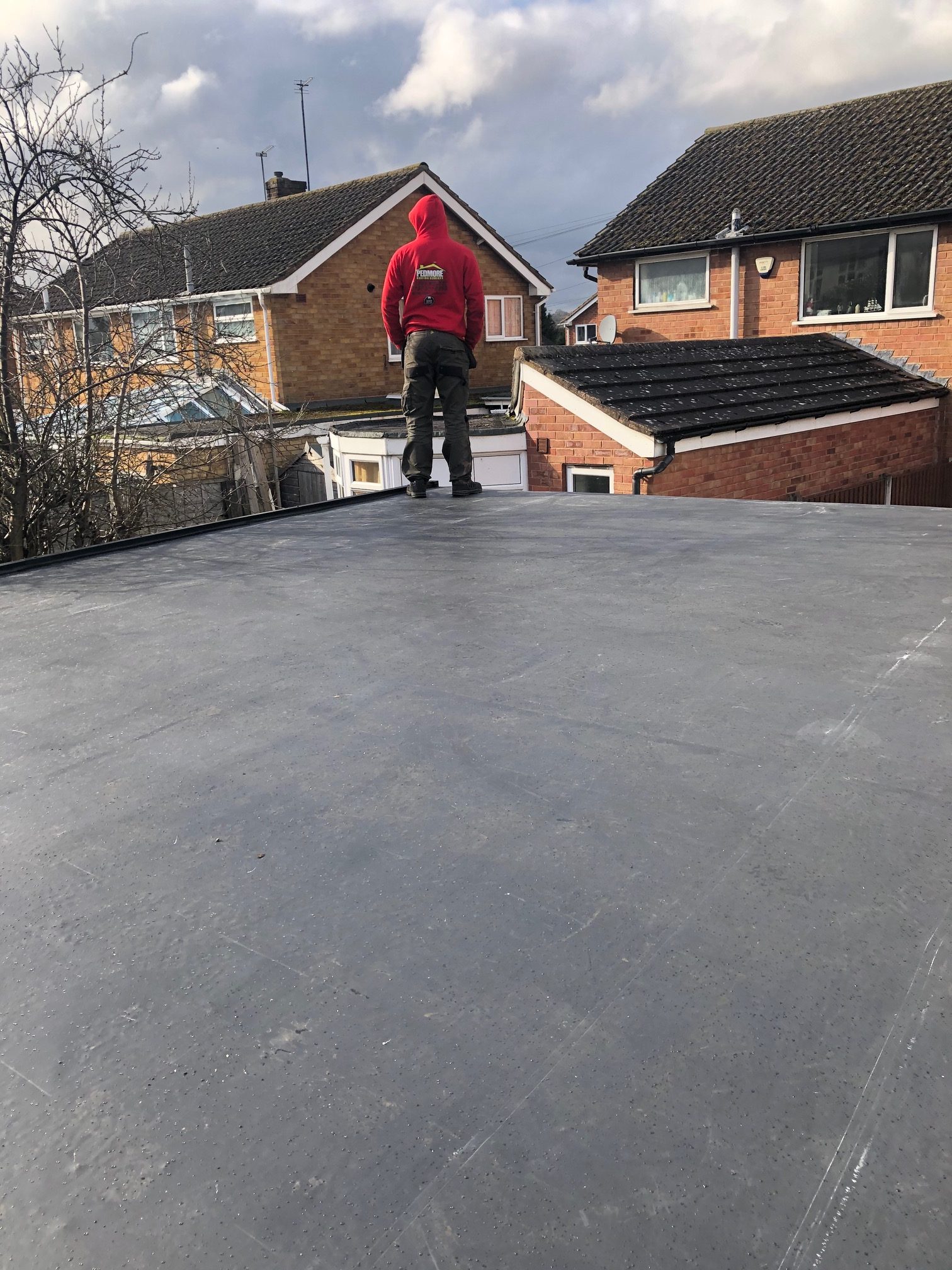 Pedmore Roofing Services
Roofing contractor for the West Midlands and Worcestershire
15+ years of satisfaction guaranteed roofing experience!
Who Is Pedmore Roofing?
We are roofing contractors for the West Midlands and Worcestershire
Pedmore Roofing Services is the best local roofing contractor in the West Midlands and Worcestershire with 15+ years of experience and generations of roofing experience.

Besides general roofing services. We specialise in new roofs, re-roofing, fibreglass & felt roofs, guttering, fascias and re-pointing. Pedmore Roofing Services is well equipped and experienced in all aspects of the roofing trade.
Our team is dedicated to delivering a very high standard of workmanship that is unrivalled in the area. Available for roofing services across the whole of the West Midlands and Worcestershire.

We're here for all roofing and roofline problems. Call us today and we'll be happy to help!
5 Star Customer Reviews
Annmarie Mcnaney
9 March 2023
A very competitive price for the work we needed. The guys were friendly and professional, no question was too much trouble to answer. We are really satisfied with the whole service. Highly recommended.
Barrie John
18 February 2023
Great work from a friendly team. A fair quote for replaceing felt roof. Very happy with work carried out by the team. easy to deal with and very punctual. Would definitely use again.
We needed a complete new roof on our house and Alex and his team completed the whole job ( removing and disposal of old tiles and felt and installation of replacement roof) in just two days. The lads worked hard and were personable , friendly and considerate of both ours and our neighbours' property. Really glad we went to this company and would recommend this company to anyone needing this type of work.
David Milford
8 February 2023
Really good service. Turned up on time and price was good.
Christopher Caunt
7 February 2023
Alex was really helpful with arranging the quote and kept to the date & time he said he'd visit. His price was very competitive and he started work within just a few weeks. The team turned up on the promised date and the work was completed on time and budget. A really nice looking job and friendly team of workers. The other positive references led me to Pedmore Roofing in the first place. You won't be disappointed, can definitely recommend.
Laura Brown
29 January 2023
Highly recommend. Fast response to request for inspection/quote. Within a day had agreed spec/quote/programme. Attended on time, finished on time, good work, efficient, tidy, all done as promised. As a woman on my own I felt completely at ease with Alex and his team, and everything was explained to me in terms of cost. Will definitely use again and recommend to others.
Adam Green
29 January 2023
After having a company we found on Facebook give us a quote on some repairs, we were told it was not a repair but a whole new roof and joists etc! price was very high and we were dubious regarding the level of work. Due to the high price we shopped around for a better price and that's when Alex come to price us for a full new roof. He spent a good while with us and inspected the roof thoroughly inside and out, turns out there was nothing wrong with the roof timbers, just needed new felt, lath and tiles feeling confident we booked him to complete the works at what seemed a fair price with a full breakdown of cost, Alex and his team turned up to complete the job when they said and left my property absolutely immaculate. Very friendly, professional team who saved me a huge amount of money and upheaval. Would highly recommend and definitely worth the mountain of biscuits I supplied ☺️
Mark Davies
29 January 2023
We contacted Pedmore Roofing about having a roof on our new extension. Alex was really knowledgeable and friendly when he came round to quote and gave us a very competitive price for the work. Having been ripped off before for work we were wary but Alex seemed genuine and put our minds at ease. What can I say about the finished result but absolutely fantastic. Alex and his team were punctual,tidy and super friendly and we really can't fault anything at all. Well done Pedmore Roofing. 10/10 from us.
Michelle Green
24 January 2023
Excellent service, responded immediately and turned up when they said they would. Roof repairs carried out, would highly recommend.
Tracy Price
17 January 2023
Fast response to request for inspection/quote, when garage and car port roof needed replacement. Within a day had agreed spec/quote/programme. Attended on time, finished on time, good work, efficient, tidy, all done as promised. Highly recommended.
Our Roofing Services
Why choose us as your roofer?
Pedmore Roofing Services is a trusted roofing contractor with 15+ years of experience that originated in Pedmore, Stourbridge. We have since expanded to gain a portfolio of many happy customers across the West Midlands and Worcestershire areas. If you are looking for the highest quality pitched or flat roof with a complete before and after-sale service, then Pedmore Roofing Services is the company for you.
Pick a service from the list below to find out more!
At the first sign of a roofing problem, call Pedmore Roofing. We'll provide an assessment of what the issue is as well as what your options are. Sometimes the solution is simple, so rest assured we will try to keep our prices low. Do you have an emergency roof repair in the West Midlands or Worcestershire? Our roof contractors are more than qualified to deal with all damage – including storm damage. Whether the roof repairs are minor or major, we are always happy to help. All our flat and felt roof leak repair work undertaken is insured. We offer an emergency 24/7 call-out service.
This includes removing existing tiles and cleaning them off, rebedding them and pointing the existing tiles using Unibond. We then clear away all debris. Whether you need a small section of your roof patching up or you need an entire set of tiles or slate replaced, Pedmore Roofing undertakes all roofing tile work. Wherever possible we replace breakages with reclaimed tiles and slate.
Chimney Stack Re-Pointing
Re-pointing of chimney stacks is a vital part of maintaining your property. Poorly-maintained brickwork can collapse during storms causing roof damage. Insurance companies may decline claims where a chimney stack is left in such a poor state that its collapse has caused a roof and ceiling to come in. For a storm damage claim to be successful, it is every property owner's duty to ensure their property is kept in a good state of repair.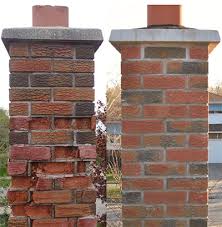 If you require a full roof in Stourbridge, Pedmore Roofing Services is the contractor for you. Being experts in slate and tile roofing and the construction of pitched roofs, as well as offering competitive rates, you will be glad you chose us. We have been successfully serving the West Midlands and Worcestershire with their roofing needs for many years. All new roofs come with optional new lead flashings (or replacement lead), new valleys, and dry ridge and dry verge systems.
We will discuss with you the best way to re-cover your roof and take into consideration budget and design issues – we won't tell you what to do with your roof, but will give you some options that will leave you with a strong, secure roof that looks the way you want it to. Whether you require a solid, robust and attractive new roof for your new build, or decide to completely replace your existing one, our roofers in Pedmore are able to cater to all your needs; offering quality workmanship, reliability, adherence to schedules and highly competitive rates.
At Pedmore Roofing Services our roofers are highly skilled in the provision and fixing of the rolled lead sheets to comply with the BS EN 12588 standard. The lead work we undertake includes: lead sheet roofs, lead box gutters, lead valleys, lead flashing to walls and chimney stacks and lead sheets to the top of dormer windows. We also offer a VELUX window fitting service as part of a roofing installation in Stourbridge. VELUX windows can add additional benefits and visual features to a roof. We are highly skilled at skylight installations in roofs, so if you are interested in incorporating roof windows into your new roof in the West Midlands or Worcestershire then please ask.
If you require a full roof in the West Midlands or Worcestershire, Pedmore Roofing Services would love to help. Slating is a popular method of waterproofing pitched roofs and vertical roofing surfaces for the domestic and commercial market. With a vast choice of man-made and natural roofing slates, be assured of a roof finish to suit specific needs. We produce all forms of tiled roofing from handmade clay plain tiles and interlocking pantiles to concrete, plain and interlocking pantiles. As with our slate roofing, all tiled roofs are fitted with breathable felt membranes for superior ventilation and insulation. Your complete tiled or slate roof will be installed to the highest standards expected.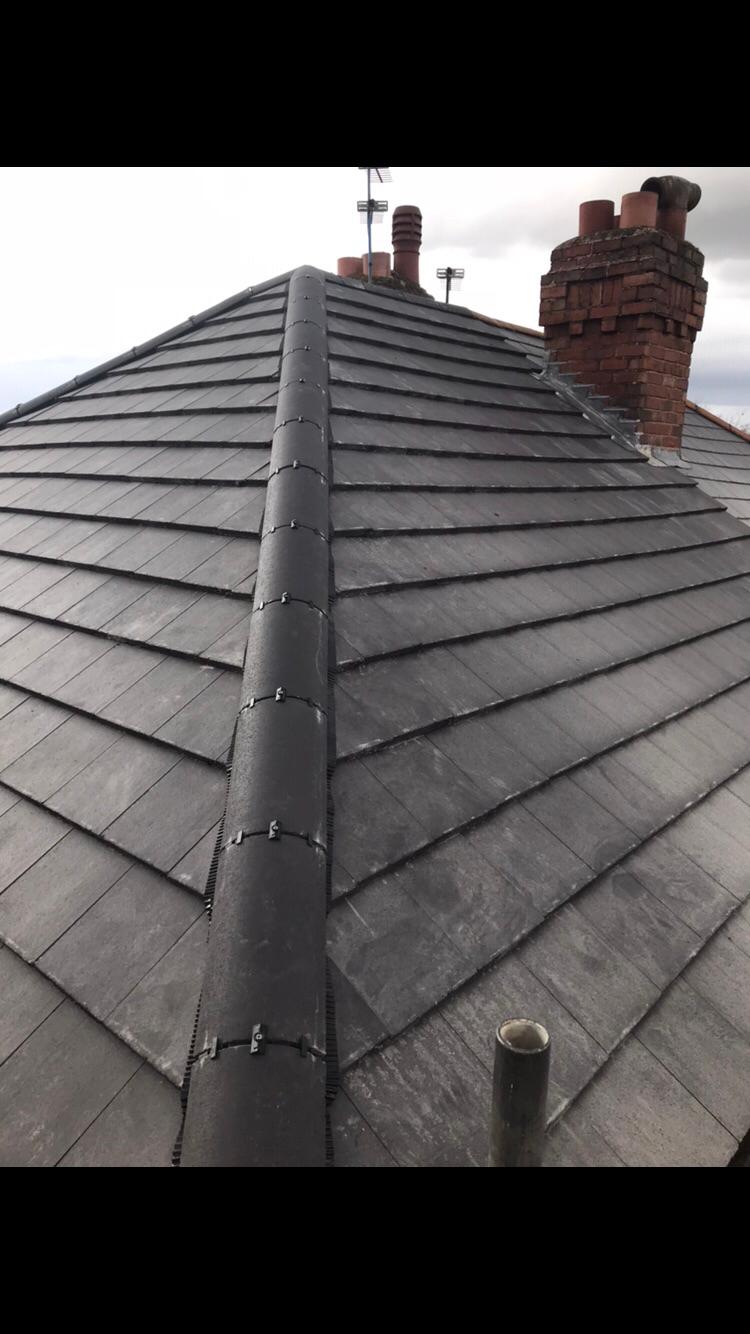 Felt Roofing, Reinforced Bitumen Membranes (RBM). We offer a range of flat roofing products from single-ply roofing to two-layer mineral systems, and also insulate flat roofs using boards ranging from 4mm to 200mm thickness. Our two-layer systems are the most cost-effective but our preferred solution is single-ply. We offer a 10-year guarantee on all three-layer systems or a 20-year guarantee on single-ply roofing.
We offer a full guttering service in the West Midlands, Worcestershire, and all surrounding areas – including Halesowen. Whether you are looking for guttering repairs or a full replacement, we can help. We are specialists in gutter repairs/replacements and downpipe repairs. Rainwater leaking from guttering can cause serious structural deterioration and unhealthy mould problems. Keeping gutters and downpipes maintained extends the life of your guttering and will prevent water damage.
Pedmore Roofing Services will remove old fascia, soffits and gutters and install quality PVCu replacements. Our system provides ventilation, avoiding damp, and while preventing any infestations of pests. Fascias run horizontally and are situated vertically under a roof edge, visible to an observer. Fascias can make your house stand out from others, making the difference between old boards and newer ones important. PVCu fascias are the perfect low-maintenance solution as they don't need to be re-painted like timber alternatives. Done professionally, they can add value to your house and protect your home from dampness and weather damage.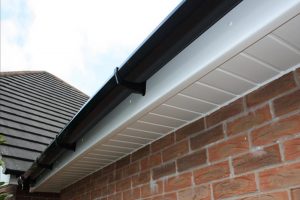 Rubber such as EPDM is renowned for its durability, along with its thermal insulation and water-resistance. This is also a stable compound with no accompanying odour or fumes that normally characterise rubbers. This is a popular choice for garages, extensions and dormer bay windows, lasting around the same length of time as fibreglass (30-40 years). If you are in the West Midlands and need flat roofing done, Pedmore Roofing Services is your best bet!
Soffits refers to the material forming a ceiling from the top of an exterior house wall to the outer edge of the roof. This bridges the gap between a home's siding and roofline, otherwise known as the eaves. On some houses, you may not have Soffits so we can build you a frame suitable for fit. When fitted correctly, they seal all gaps, making your home weather tight. Pedmore Roofing is an expert installer for all fascias & soffit requirements in the West Midlands & Worcestershire.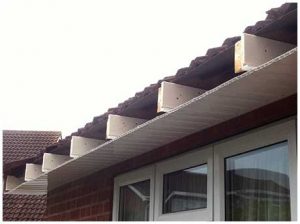 Pedmore Roofing Services offer a thorough Roofing Survey which is done by expert roofers at an affordable price. Our fully qualified roofers will help customers understand the condition of their roof and will assess any damage and what the cost will be for repair with no obligation.
This is to give homeowners the opportunity to understand the cost of repair, urgency/priority of repair and maintenance options and costs. These include images of the roof, covers, tiles, supports, gutters, chimney, skylights and windows. This service will give you an optimised quote from talented roofers with years of experience.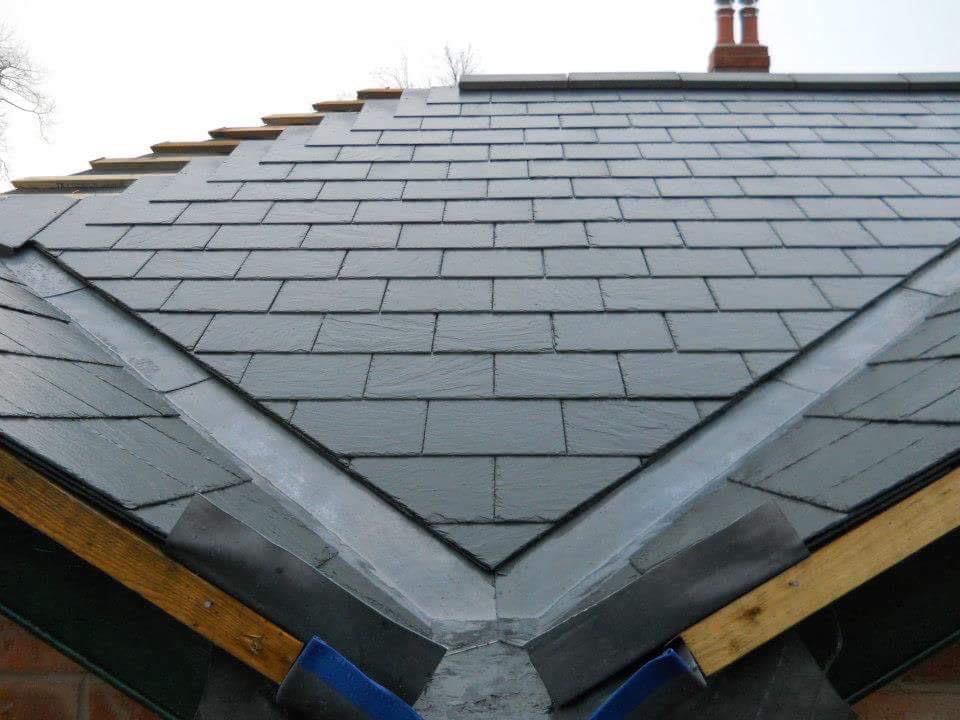 Local roofer in the West Midlands and Worcestershire
Stourbridge
Bewdley
Worcester
Kingswinford
Halesowen
Quinton
Oldswinford
Wollaston
Wombourne
Wall Heath
Malvern
Droitwich
Rowley Regis
Oldbury
Kidderminster
Wolverhampton
Case Studies
H. Porter and Sons
New Roof Repair and revamp
We are thrilled to showcase one of our latest project – a full new roof for the historic church section of H. Porter & Sons' iconic building! From top to bottom, we've revamped the roofing system with a state-of-the-art dry ridge system, ensuring durability and longevity.
But that's not all! Our team went above and beyond, installing brand new guttering downpipes to enhance drainage and protect this architectural gem for years to come. We also worked our magic on some flat roofs, using high-performance felt to give them a sleek, modern finish.
A huge shout out to the incredible team that made this project possible! Your dedication and craftsmanship have truly left a mark on this historic landmark.
Services Required
Roof Repair/Revamp
Guttering system replacement
Flat Roof with felt finish
Serving the whole of the West Midlands and Worcestershire
9 Southway Ct, Kingswinford, DY6 8NA
Contact Us For a Free Quote